The Town of Brookside is a statutory town of 238 people located on the south side of Cañon City, with whom we share a zip code. We are a small, quiet community located on Highway 115 in Fremont County.
The Town consists primarily of residential homes with a few businesses in town. The Town is open to new business ventures locating in the Town. Properties along Highway 115 are zoned for multi-purpose use. We also are home to the Fremont County Head Start Program. Some of the properties in Brookside receive water from the DeWeese-Dye Ditch and Reservoir Company.
#FFFFFF
The Town came into existence in 1888 because of the Brookside Coal Mine and was incorporated in 1913. At one time, the Town had a much larger population. We are centrally located between the incorporated municipalities of Cañon City, Florence, Williamsburg, Coal Creek, and Rockvale.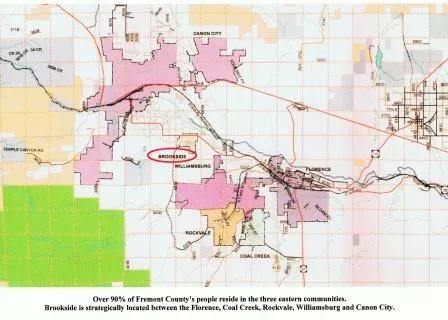 #FFFFFF
Brookside Projects
We celebrated the Town's Centennial Year of incorporation in 2013.
The Town is pursuing funding for much needed road improvements and water system updates.
The Town acquired the St. Anthony's property from the Catholic Diocese in the spring of 2013.
The Christmas Tour of Lights Fundraiser for grant match to improve St. Anthony's.
We are seeking funding for St. Anthony',s improvements. The plans include an office for the Water Operator, storage for the Town',s supplies, and a Community Event Center / Wedding Chapel. Someday, we also plan to add a shed for the Town',s road equipment.
The Brookside Community Center held its Grand Opening in 2010.
The Town completed the professional landscaping of the Community Center in 2013.
The Sons of Italy created two wonderful bocce ball courts on the Community Center grounds.
We are working on completing the Italian Bread Oven on the Community Center grounds.
SpringCreek Park held its Grand Opening in 2010. It is a native park with over one mile of walking trails.
The Bluffs Trail (which runs east-to-west from the south end of Brookside Ave. to the Spring Creek crossing at the south end of SpringCreek Park) was improved with the help of the Colorado Youth Corps.
The Town created this new website.
---
All the documents on this website are in PDF format, you will need a free PDF Reader. Please download one at https://get.adobe.com/reader/.
You may fax, mail, or bring in any of the completed forms with payment to the Town Clerk's office during business hours.